Michelle Honda-Phillips
Being part of Okaeri 2016 with my father and my daughter, Malisa, was an amazing experience. Sharing our story, I hope will empower and inspire other Nikkei families to stand by their LGBTQ children with unconditional love and acceptance. Regardless who our children are or love, we are the foundation on which they stand and gain confidence to go out into the world. Thank you Okaeri for providing all of us a safe space to be ourselves.
-Michelle Honda-Phillips, mother of a transgender child
Lei Ueunten
Okaeri 2014 was a watershed experience for me and my adult child. A heart connection was restored – we began to really communicate, offer and receive love and support from one another for the first time in more than 20 years! We returned to Okaeri 2016. I will always be grateful for Okaeri for how they are saving families and lives by helping us learn and grow deeper in love and understanding of our LGBTQ loved ones and of ourselves.
-Lei Ueunten, mother who loves her queer child
Honolulu, HI
JJ Ueunten
For me, Okaeri was the first place I got to be in community with that many LGBTQ Nikkei, and it was inspiring and freeing to know that there were so many ways that LGBTQ Nikkei were existing and expressing ourselves. Okaeri also has a special place in my heart because it was the first time I invited my mom to join me in a queer centered space. Queer community has been so essential to my survival and healing, and it felt really important to me that my mom get to see some of that part of my life. Okaeri was a place that could hold and support both of us, and the fact that she came from Hawaii to be there together with me made a tremendous difference in how close I feel to my mom.
-JJ Ueunten, Invisible to Invincible (I2I)
Chicago, IL
Linda Aratani
My mom and I were so thrilled to attend Okaeri 2016 and see the amazing work created by and for Nikkei LGBTQ families. We want our children, grandchildren and all children to grow up in a world that is safe and respectful regardless of sexual orientation or gender identity. Okaeri is providing a welcoming place for families to learn, get support, find resources and find community, so they do not feel so alone.
-Linda Aratani, The Aratani Foundation
Kiyomi Fujikawa
Okaeri was a very powerful experience! I was moved by the amount of "family" that attended - both in the queer sense of other LGBTQ Nikkei and in the sense of how inter-generational the gathering was. Looking forward to the ways we can 'welcome each other home' with the next Okaeri.
-Kiyomi Fujikawa, API Chaya, Seattle, Washington
Eric Arimoto
As a 51 year old, fourth generation Japanese American gay man, I see Okaeri as an act of redress. I ran away from home when I was 18 and joined the US Army because I could not imagine coming out as gay and being supported by my family and the Nikkei community. I left the village never to return because the messages that I received back in 1984 were non-affirming, damaging, shameful and silencing. Today, I am proud to be back in the Nikkei community as it shines a light on issues having to do with LGBT JA acceptance and justice.
-Eric Arimoto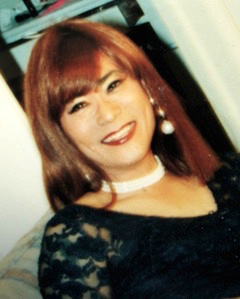 Lori Song
Okaeri 2014, the very first Okaeri and my first time attending an event like that. I had no idea what to expect and was a little nervous but by the end of the day, I had made some supportive and caring new friends, enjoyed being with like-minded folk, loved the delicious bento and fresh fruit and pastries, but most of all, I was amazed and inspired by all the LGBTQ people, young and not-so-young that were there with friends, family, and allies!
So as one of the less than young crowd and as a transgender person, I would like to invite and encourage everyone to join us for Okaeri 2016. You'll be glad you did!
-Lori Song
Alison Kochiyama
Being a part of the first Okaeri was such a heartfelt experience. It was a warm welcoming for not only members of the LGBTQ community, but their family, friends, and allies. I attended Okaeri to support my friend and also as an ally of the LGBTQ community, but I soon began realizing that I was there through an even stronger personal connection. My brother who was gay passed away twenty years ago, and I knew if he were still here to have experienced this powerful gathering with such love, acceptance, and openness, it would have been so profound, and he would have been so grateful. Thank you, Okaeri!
-Alison Kochiyama
Marsha Aizumi
I never dreamed that Okaeri 2014 could touch so many lives. Hearing stories of parents connecting closer to their children, LGBTQ individuals courageously asking to be seen and straight allies compassionately wanting to find ways to support the LGBTQ community has brought hope to me as a mother of a transgender son. I look forward to Okaeri 2016 and all it can bring to our Nikkei LGBTQ families this year.
-Marsha Aizumi, Co-Chair Okaeri 2014
Marian Sunabe
I entered into this journey with Okaeri wanting to join the fight against injustice, especially injustice against LGBTQ people that comes out of the Christian church. And I wanted to promote the message that there was space in God's family for everyone, no need to leave any part of your identity at the door. Being a lifelong Christian, and someone whose primary identity is Christian, I wanted to take action the way Jesus would have -- to use my power and straight Christian privilege to make room in the faith community for my LGBTQ brothers and sisters. I wanted to be someone who would "be the light that dispels another's darkness." But the remarkable thing is that I have been on the receiving end of so much love and community as a result of my decision to speak out. Knowing and loving and affirming queer-identified people has enriched my life as a Christian in ways I never thought possible. So if you are, or used to be, or wish you could be a person of faith ...wherever you are on your faith journey...just come. There will be a place for you at Okaeri.
-Marian Sunabe, Asian American & Pacific Islander Christians for Social Justice
Sarah Baker
Okaeri has been an international inspiration to LGBTQ and Nikkei communities. It is so important to recognize the intersections in people's lives; Okaeri 2016 will bring people together in a loving and safe environment.
-Sarah Baker, Seattle JACL President
Darren Shirai
Okaeri was a defining moment for me. It had a big impact on how I think about myself. I am not alone. That in itself is empowering.
-Darren Shirai